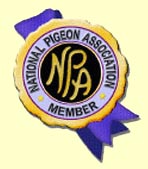 National Pigeon Association Affiliate
Since 1900 - The longest enduring Pouter Club in the U.S.A.
The American Pigmy Pouter Club is promoting and developing the Pigmy Pouter through club meetings, news letters, shows and this Web site.
Would you like to become a member of our club?
Do you have comments or questions about our organization?
Just click on "Contact Us"